How Facebook Pixel guarantees your success
What is Facebook Pixel?
Facebook Pixel is just a few lines of code to integrate on a part of your website. Among other things, it allows you to store essential information about the activity of your website users by depositing tracking cookies. The deposit of cookies is triggered when a user lands on your website after clicking on one of your Facebook ads or after visiting your site while logged into Facebook. This information is then recorded in Facebook Analytics and Facebook Ads Manager in the form of statistics. For example, if a user adds a product to his or her shopping cart or visits a page on your site, this information will be recorded in a more or less anonymous way. You will not be able to know the names of the users. However, you will be able to obtain information on the profile of all users: gender, age, location, cell phones used, activity times and more.
This combination of parameters allows you to achieve several objectives, the main ones being :
Track the activity of your users who have interacted with your ads and your website
Help you define your audience
Evaluate the performance of your ads
Why use Facebook Pixel?
In the second quarter of 2020, Facebook, comptait 2,7 milliards d'utilisateurs actifs par mois: an opportunity that advertisers should not let slip away! Facebook offers an ad serving tool, called Facebook Ads Manager, within its platform for anyone who wants it. By adding Facebook Pixel you double your chances of making an impression on your audience through the use of well-targeted ads. Think of Facebook Pixel as the rudder of a ship, a ship that is nothing more than your Facebook Ads Manager space.
Concretely, what could I do?
You will be able to extract gold from a mine! Facebook Pixel is like a robot at your service.
Here is a an example: You sell on your e-commerce high-end women's clothing. You write an ad that would ideally correspond to this audience. Then you ask Facebook to show your ad to a group of women between 18 and 25 years old who like the brand of one of your competitors, Yves Saint Laurent. What happens ?
Search: Facebook Ads searches for the audience you have defined to show them your ad.
Result: a portion of the users in this audience interact with your ad
Information: Facebook Pixel records the activities of its users under different categories of "events".
Monitoring: you analyze your results and create personalized audiences thanks to the events recorded by the pixel.
Extraction: Facebook Ads uses your personalized audiences to search for users similar to those who reacted to your ads.
Installing the pixel gives you the opportunity to optimize the results of your ads by targeting users who have shown an interest or who might show an interest in your brand!
Let's have a more detailed look into Facebook Pixel The pixel therefore records activities under standard event categories which are:
Purchase: a user makes a purchase on your e-commerce
Add to cart : a user adds a product to his cart on your e-commerce
Add payment info: a user has added his payment info and was about to pay
**Payment initiated **: a user has validated his cart to continue his order
Contact: a user used your contact platform
Page view: a user viewed a page on your site
Content View: a user viewed product content or clicked on a button on a page that you categorized as a "Content View
Category View: A user viewed a product category
Subscribe: A user has subscribed to a service or product on your site (newsletter for example)
Prospect: a user
Customize the product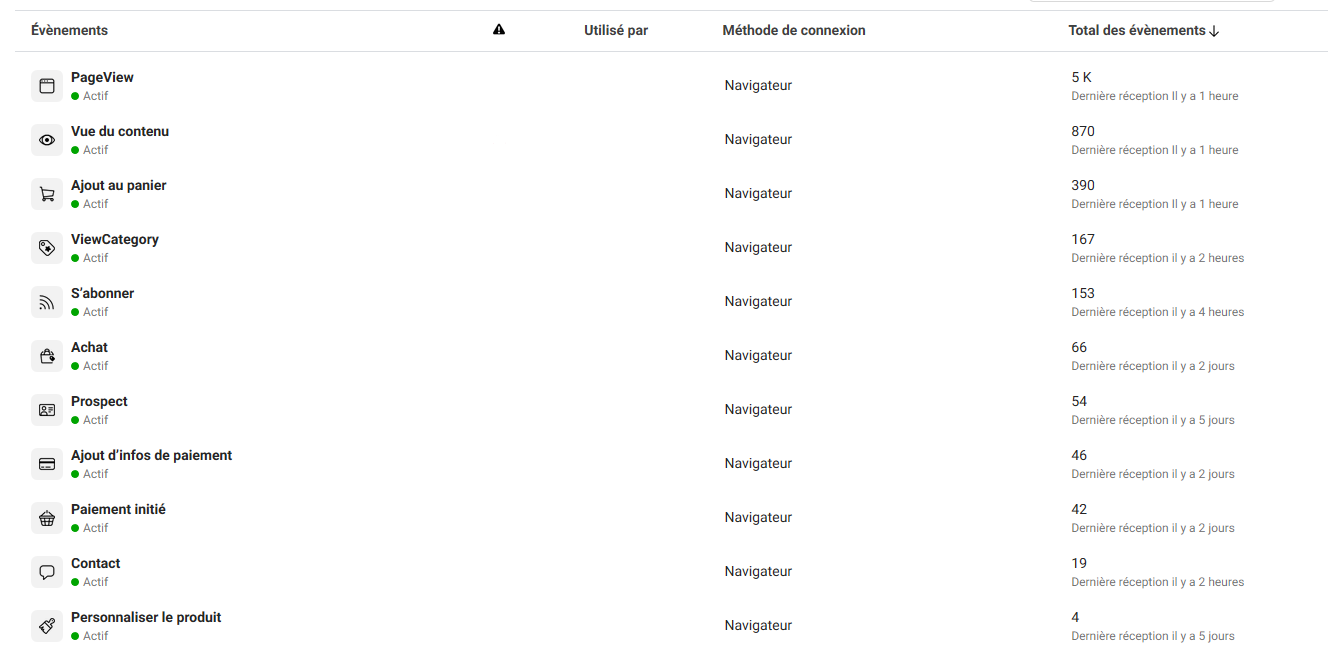 You can use these events in your ads to set conversion goals. In the example below, we've added the "Add to Cart" event to encourage Facebook to show ads to people who might add a product to their cart after landing on the site.

These events also allow you to create :
personalized audiences: this type of audience is ideal for implementing what is called advertising retargeting. For example, you can create an audience that only includes people who have added items to their shopping cart in order to retarget them, or all the people who have visited your website, your Instagram page or your Facebook page.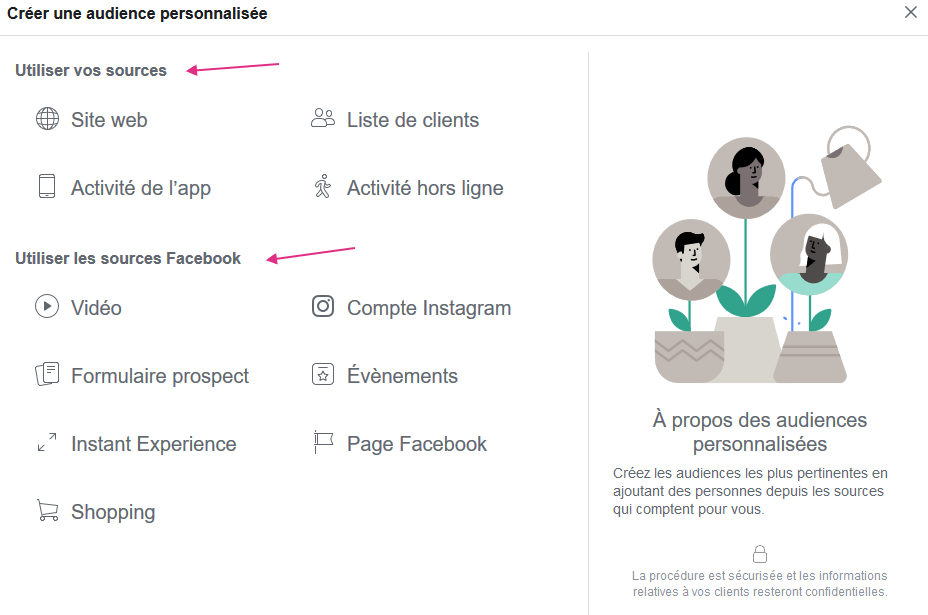 Similar audiences (Lookalike Audience): these audiences are generated by Facebook from your personalized audiences and thus allow you to reach your core target more easily. Thanks to this tool, you can target an audience similar to the people who have taken actions on your Instagram account for example.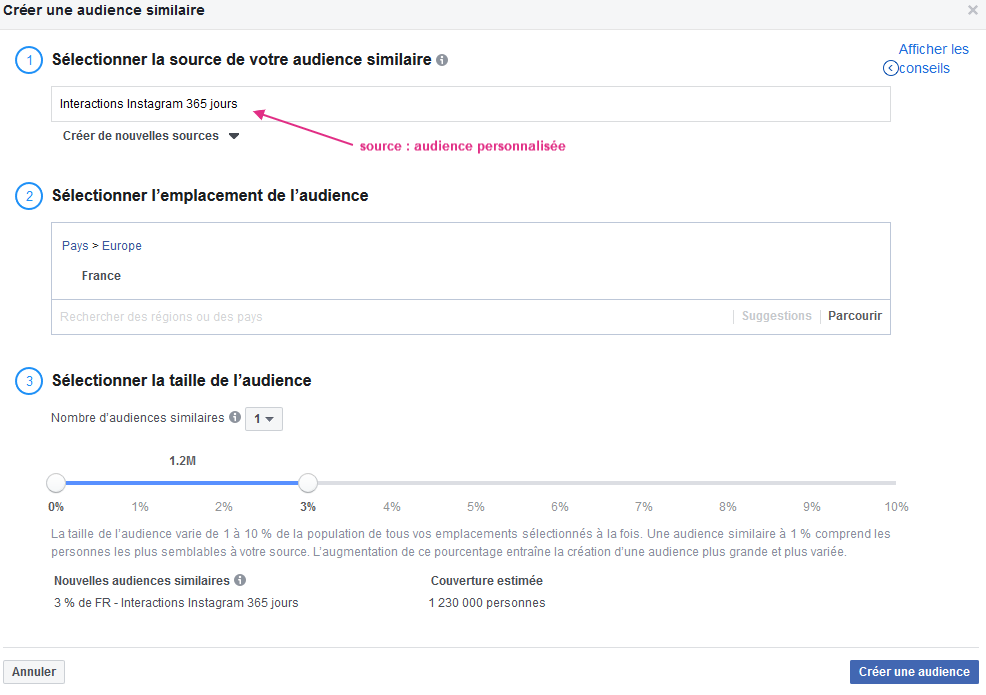 Now you know what Facebook Pixel is and why it is useful to install it on your e-commerce. Don't waste no time!